This air monitoring system is currently installed in Orion spacecraft for Artemis 2 and Artemis 3 missions. The device was designed and manufactured by Alabama-based Dynetics and satisfies NASA's most stringent human spaceflight requirements.(Image credit: Sharmila Kuthunur for Space.com)
SEATTLE — Much like the smoke and carbon monoxide detectors arming your home, a shoebox-sized device will constantly monitor the air astronauts breathe during NASA's crewed Artemis missions to the moon.
The machine's purpose is to provide real-time data about concentrations of oxygen, carbon dioxide and water vapor in the Orion spacecraft, which is the agency's vehicle of choice for its Artemis program. The air quality detector is also equipped with a pressure sensor that alerts astronauts before air pressure within the capsule spikes to dangerous levels. This can be caused by anomalies such as gas leaks.
« It does have different checks in place that make sure people are aware if something is not right, » Heather Woods, the deputy program manager for the air monitoring system at Dynetics, told Space.com.
In 2018, NASA chose the Alabama-based company to design and manufacture an air quality detector for the Artemis 2 crewed mission. After satisfying NASA's most stringent requirements in terms of hardware and software for human spaceflight, the detector became one of the first instruments installed in the mission's Orion spacecraft in 2020. It is capable of withstanding « almost full launch loads when it's going into space, » Monica Wuhrer, the air monitoring system's project engineer, told Space.com.
Related: How Artemis 2 astronauts are training for their 2024 moon mission
In addition to continuously monitoring the air in Orion's cabin, this detector is designed to also measure air quality inside Artemis 2 astronaut spacesuits during the crew members' 8-day trip around the moon late next year.
An improved version of the original detector also sits inside another Orion spacecraft that will be used for the Artemis 3 mission, which is NASA's moon landing endeavor planned for 2025. This detector, however, is not portable and is therefore not installed in the Extra Vehicular Activity (EVA) suits this mission's astronauts will wear while walking on the moon, Trista Niemann, the program manager for the air monitoring system, told Space.com in an email. The team is investigating portable units that can be used in future missions, she added.
One of four identical parts that complete the laser air monitoring system (LAMS) — a « LAM chop » as the team calls it — was showcased last week at the International Space Station Research and Development Conference (ISSRDC) in Seattle. The segment presented was a 6-pound (2.7-kilogram) instrument adorned with complex electronics laid out in clear rectangular sheathing, with a trumpet-shaped tube that continuously lets air inside for testing.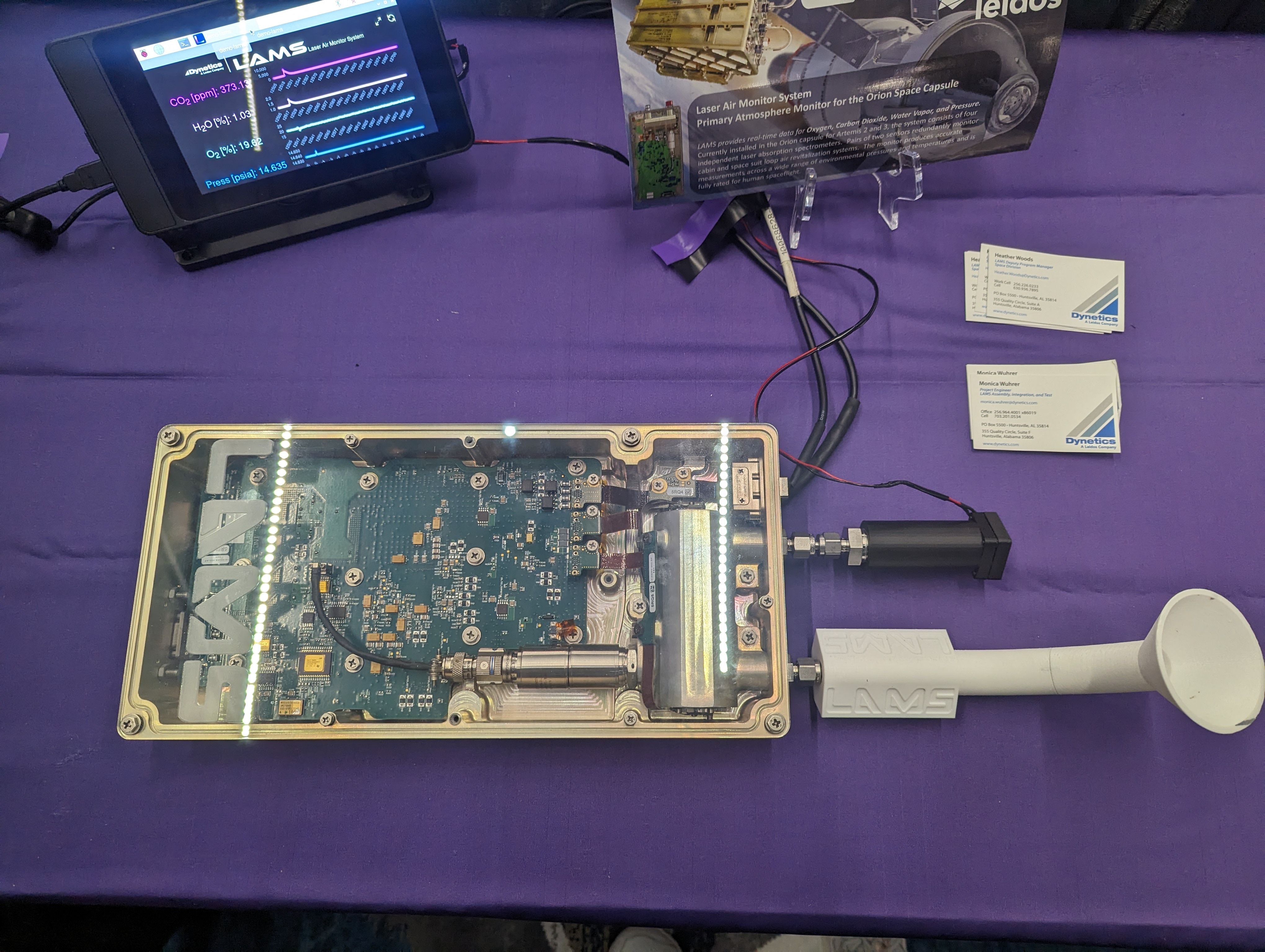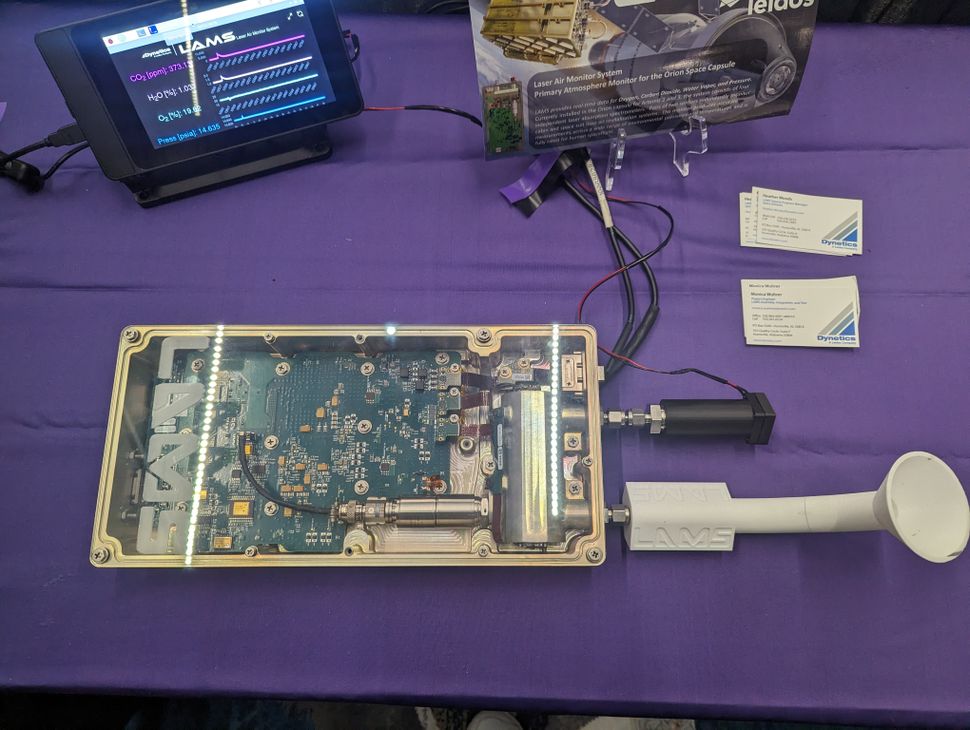 If you were to blow even the slightest puff of breath into the trumpet-like blow-hole, like I did, you'd notice spikes on a tiny nearby screen, not unlike those seen in a heartbeat monitor. Shortly after, these spikes would shorten into standard readings as air in the room passively makes its way in.
The device's core job of measuring gas concentrations in the air that enters the device is done by a spectrometer packed at one end. Within this spectrometer lie lasers emitting infrared light that shoot beams to the other end of the system. Meanwhile, any gas molecules in the air absorb certain wavelengths of this light, leaving behind distinct imprints in the laser beams. These imprints can be measured as electrical signals, and it's those signals that are associated with each molecule's total concentration.
The air quality monitoring system measures water, carbon dioxide and oxygen levels. The latter is a weak absorber of infrared light and requires a laser to be bounced between two mirrors 31 times, according to the device specifications document provided by Leidos and seen by Space.com. The high number of bounces effectively increases the length of the laser beam and allows for sufficient resolution to measure its concentration.
The air monitoring system for Artemis 3 was built for a total of $18 million, while future versions for Artemis 4 and Artemis 5 missions will be « built-to-print » units priced at approximately half the per-unit cost of the Artemis 3 detector, Niemann told Space.com.
The detectors are designed to operate for 13 years. Owing to the crucial life support nature of the device, NASA has « very, very tight requirements, » Woods told Space.com, « and that's what we have been really trying to achieve through these different iterations. »
« We had no failures, » she added. « We did all our testing and it passed with flying colors. »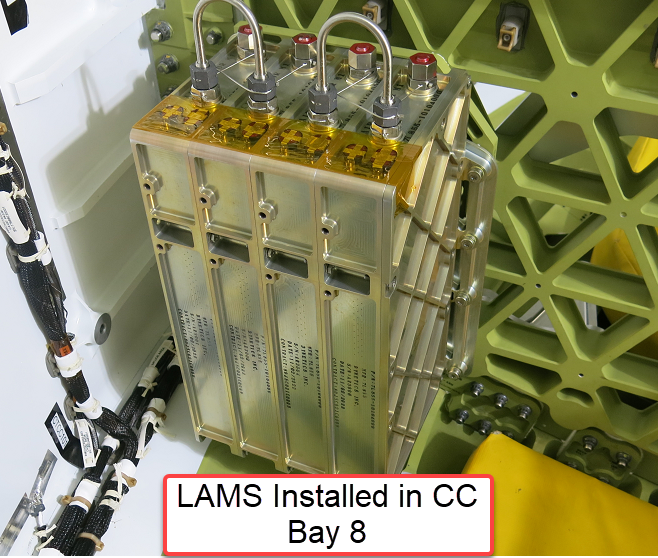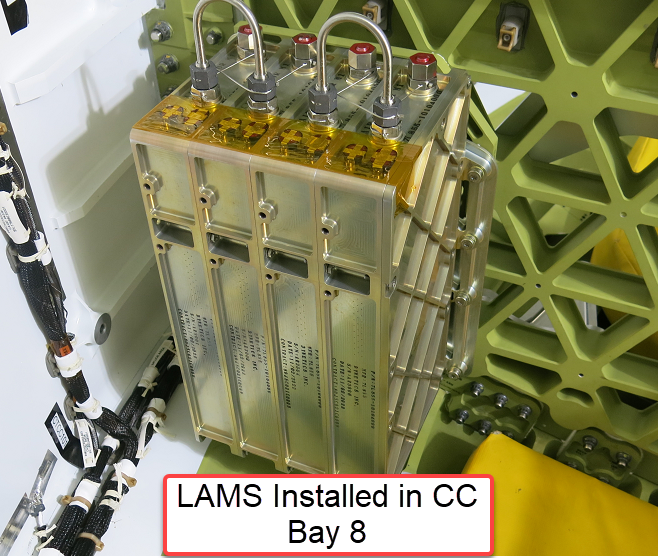 The hardware and software for these detectors, including the one installed in Artemis 3, have received the highest safety rating by NASA, according to the mission specification document. The system's hardware is rated as « Criticality-1R, » which means the failure of the component could result in « loss of life or vehicle. » For reference, the same rating was given to the O-rings in the solid rocket boosters of the Space Shuttle.
The system's software, which carries out the algorithms to measure gas concentrations, is rated as « Class A, » which meant each line of code needed to be written from scratch among other requirements, according to a paper outlining the detector's build and test results.
Although the detector must continuously monitor the air that the astronauts breathe, its performance does not depend on the number of crew members —  a feature that makes it very useful for future missions to the moon and perhaps even to Mars.
Join our Space Forums to keep talking space on the latest missions, night sky and more! And if you have a news tip, correction or comment, let us know at: community@space.com.
Source: Shoebox-sized gadget will ensure astronauts breathe safely on NASA's Artemis missions | Space